Devotionals
The Spirit and Adoption
A devotional by Grace To You for reading on September 22nd
"For all who are being led by the Spirit of God, these are sons of God. For you have not received a spirit of slavery leading to fear again, but you have received a spirit of adoption as sons by which we cry out, 'Abba! Father!' The Spirit Himself bears witness with our spirit that we are children of God" ( Romans 8:14-16 14 For as many as are led by the Spirit of God, these are sons of God. 15 For ye received not the spirit of bondage again unto fear; but ye received the spirit of adoption, whereby we cry, Abba, Father. 16 The Spirit himself beareth witness with our spirit, that we are children of God: ).
The Holy Spirit confirms in our hearts the reality of adoption into God's family.
In first-century Rome, people did not practice adoption exactly the same as they do today. A father sometimes adopted a young man outside the family to be the primary heir of the father's name and estate. If the father considered his natural sons unworthy, he would find someone else with the qualities he wanted in a son. The adopted son would then take precedence over any of the real sons in the inheritance process. Thus the new son received many rights and privileges he would not have had otherwise; he was not merely a second-class citizen rescued from homelessness.
Likewise, it requires more than a natural birth process for us to become members of God's family. We become God's children because He sovereignly chose to grant us spiritual rebirth ( John 1:12-13 12 But as many as received him, to them gave he the right to become children of God, `even' to them that believe on his name: 13 who were born, not of blood, nor of the will of the flesh, nor of the will of man, but of God. ). That's the substance of biblical adoption.
Therefore, adoption and regeneration are both terms that describe how God brought us to Himself (see 2 Cor. 5:17). Regeneration makes us sons and daughters and prepares us for our eternal inheritance. Adoption names us "sons of God" and actually gives us the title to our inheritance. Once this occurs, all our former debts (sins) are canceled, and we have a right to be in God's presence without condemnation.
The entire process of adoption is superintended by the Holy Spirit, who repeatedly confirms its reality in our hearts. He transfers us from an alien family into God's family and thus "bears witness with our spirit that we are children of God" (Rom. 8:16). If you are a Christian, you can, by the indwelling Spirit, know that you are legally and eternally God's child.
Suggestions for Prayer
Ask the Lord to give you a renewed sense of joy and thanksgiving throughout this day as you remember the blessings of being his adopted child.
For Further Study
Read Genesis 12:1-8 Chapter 12 1 Now Jehovah said unto Abram, Get thee out of thy country, and from thy kindred, and from thy father's house, unto the land that I will show thee: 2 and I will make of thee a great nation, and I will bless thee, and make they name great; and be thou a blessing; 3 and I will bless them that bless thee, and him that curseth thee will I curse: and in thee shall all the families of the earth be blessed. 4 So Abram went, as Jehovah had spoken unto him; and Lot went with him: and Abram was seventy and five years old when he departed out of Haran. 5 And Abram took Sarai his wife, and Lot his brother's son, and all their substance that they had gathered, and the souls that they had gotten in Haran; and they went forth to go into the land of Canaan; and into the land of Canaan they came. 6 And Abram passed through the land unto the place of Shechem, unto the oak of Moreh. And the Canaanite was then in the land. 7 And Jehovah appeared unto Abram, and said, Unto thy seed will I give this land: and there builded he an altar unto Jehovah, who appeared unto him. 8 And he removed from thence unto the mountain on the east of Beth-el, and pitched his tent, having Beth-el on the west, and Ai on the east: and there he builded an altar unto Jehovah, and called upon the name of Jehovah. .
What commands and promises did God make?
Had Abraham known God in the same way prior to this passage?
Does God's promise in any sense parallel the concept of adoption? Explain.
From Strength for Today by John MacArthur Copyright © 1997. Used by permission of Crossway Books, a division of Good News Publishers, Wheaton, IL 60187, www.crossway.com.
Additional Resources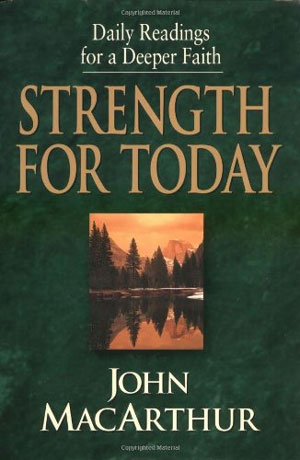 The content above belongs exclusively to Grace To You - Strength For Today and is provided on HopeLife.org for purely non-profit purposes to help extend the reach of their ministry.
Copyright 2016 by John MacArthur. Used by permission from Grace to You.