Devotionals
Playing the Fool
A devotional by Grace To You for reading on November 23rd
"Behold, I have played the fool" ( 1 Samuel 26:21 21 Then said Saul, I have sinned: return, my son David; for I will no more do thee harm, because my life was precious in thine eyes this day: behold, I have played the fool, and have erred exceedingly. ).
A Christian should not act like a fool.
In Deuteronomy 32:6 6 Do ye thus requite Jehovah, O foolish people and unwise? Is not he thy father that hath bought thee? He hath made thee, and established thee. Moses looked out at the belligerent children of Israel who had failed God so many times and said, "Do you thus repay the Lord, O foolish and unwise people?" The children of Israel were playing the fool. Sadly, God's people today continue to play the fool.
One way they do so is through disbelief. On the road to Emmaus, Jesus appeared to two disciples who didn't believe that He had risen from the dead. Jesus said to them, "O foolish men and slow of heart to believe in all that the prophets have spoken!" ( Luke 24:25 25 And he said unto them, O foolish men, and slow of heart to believe in all that the prophets have spoken! ). To disbelieve God and His Word is to play the fool.
Another way believers play the fool is through disobedience. In Galatians 3:1 Chapter 3 1 O foolish Galatians, who did bewitch you, before whose eyes Jesus Christ was openly set forth crucified? the apostle Paul says, "You foolish Galatians, who has bewitched you, before whose eyes Jesus Christ was publicly portrayed as crucified?" And in verse 3 he says, "Are you so foolish? Having begun by the Spirit, are you now being perfected by the flesh?" They started out well but were disobedient and got caught up in the works of the law.
Still another way Christians play the fool is through desire for the wrong things. First Timothy 6:9 says, "Those who want to get rich fall into temptation and a snare and many foolish and harmful desires." If you desire the wrong things, you play the fool.
Finally, you can play the fool through doing the wrong things. James 3:1317 says that there are two kinds of wisdom. Godly wisdom produces "good behavior" (v. 13), but foolish wisdom produces "jealousy and selfish ambition" (v. 16). A self-centered person plays the fool.
It's sad to see so many Christians playing the fool. It doesn't make any sense. Why should Christians live as blind, ignorant, foolish people when they have the wisdom of God?
Paul says at the end of Romans, "I want you to be wise in what is good, and innocent in what is evil" (16:19). If you have to be a fool at all, be a fool (unknowing, unacquainted) about evil.
Suggestions for Prayer
Make Paul's exhortation in Romans 16:19 19 For your obedience is come abroad unto all men. I rejoice therefore over you: but I would have you wise unto that which is good, and simple unto that which is evil. your prayer.
For Further Study
Read Proverbs 2:1-22 Chapter 2 1 My son, if thou wilt receive my words, And lay up my commandments with thee; 2 So as to incline thine ear unto wisdom, And apply thy heart to understanding; 3 Yea, if thou cry after discernment, And lift up thy voice for understanding; 4 If thou seek her as silver, And search for her as for hid treasures: 5 Then shalt thou understand the fear of Jehovah, And find the knowledge of God. 6 For Jehovah giveth wisdom; Out of his mouth `cometh' knowledge and understanding: 7 He layeth up sound wisdom for the upright; `He is' a shield to them that walk in integrity; 8 That he may guard the paths of justice, And preserve the way of his saints. 9 Then shalt thou understand righteousness and justice, And equity, `yea', every good path. 10 For wisdom shall enter into thy heart, And knowledge shall be pleasant unto thy soul; 11 Discretion shall watch over thee; Understanding shall keep thee: 12 To deliver thee from the way of evil, From the men that speak perverse things; 13 Who forsake the paths of uprightness, To walk in the ways of darkness; 14 Who rejoice to do evil, And delight in the perverseness of evil; 15 Who are crooked in their ways, And wayward in their paths: 16 To deliver thee from the strange woman, Even from the foreigner that flattereth with her words; 17 That forsaketh the friend of her youth, And forgetteth the covenant of her God: 18 For her house inclineth unto death, And her paths unto the dead; 19 None that go unto her return again, Neither do they attain unto the paths of life: 20 That thou mayest walk in the way of good men, And keep the paths of the righteous. 21 For the upright shall dwell in the land, And the perfect shall remain in it. 22 But the wicked shall be cut off from the land, And the treacherous shall be rooted out of it. as a reminder of what benefits you'll receive from following true wisdom instead of playing the fool.
From Strength for Today by John MacArthur Copyright © 1997. Used by permission of Crossway Books, a division of Good News Publishers, Wheaton, IL 60187, www.crossway.com.
Additional Resources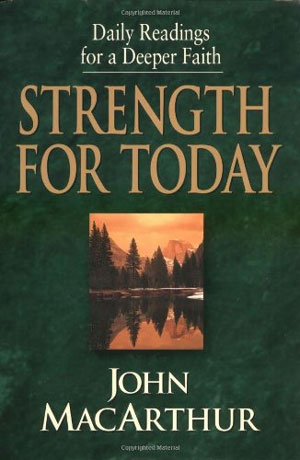 The content above belongs exclusively to Grace To You - Strength For Today and is provided on HopeLife.org for purely non-profit purposes to help extend the reach of their ministry.
Copyright 2016 by John MacArthur. Used by permission from Grace to You.