Devotionals
God Has Unlimited Power
A devotional by Grace To You for reading on February 12th
"'Thine, O Lord, is the greatness and the power and the glory and the victory and the majesty, indeed everything that is in the heavens and the earth; Thine is the dominion, O Lord, and Thou dost exalt Thyself as head over all'" ( 1 Chronicles 29:11 11 Thine, O Jehovah, is the greatness, and the power, and the glory, and the victory, and the majesty: for all that is in the heavens and in the earth `is thine'; thine is the kingdom, O Jehovah, and thou art exalted as head above all. ).
God has unlimited power and ultimate control over everything.
There is no limit to God's power. Revelation 19:6 6 And I heard as it were the voice of a great multitude, and as the voice of many waters, and as the voice of mighty thunders, saying, Hallelujah: for the Lord our God, the Almighty, reigneth. says, "The Lord our God, the Almighty, reigns." In fact, one Hebrew name for God is El Shaddai (El means "God"; Shaddai means "almighty"). Another word for "almighty" is "omnipotent."
God can do anything effortlessly. It is no more difficult for Him to create a universe than it is for Him to make a butterfly. We get tired when we work, but God's infinite power never lessens: "The creator of the ends of the earth does not become weary or tired" (Isa. 40:28).
Not only does God have unlimited power but also the authority to use it. "Our God is in the heavens; He does whatever He pleases" (Ps. 115:3). But God's power, authority, and will are in harmony with His nature. He cannot sin, neither can He accept impenitent sinners. Such actions would contradict His holiness.
People often question what God does because they don't understand that He can do anything He wants. They ask, "Why did God do that?" I've often replied, "Because He wanted to." He showed His sovereignty—His ultimate control of everything—in showing mercy to some like Isaac and Jacob, while hardening the hearts of others like Pharaoh (Rom. 9:6-21). To those who object to God's right to control such things, Paul said, "Who are you, O man, who answers back to God? The thing molded will not say to the molder, 'Why did you make me like this,' will it? Or does not the potter have a right over the clay . . . ?" (vv. 20-21).
Never question God's use of His power. He is in control, and "The Lord is righteous in all His ways, and kind in all His deeds" (Ps. 145:17). We can trust that whatever He does, it's for the best.
Suggestions for Prayer
Praise God for His infinite power and sovereignty.
For Further Study
Read Isaiah 40:21-31 21 Have ye not known? have yet not heard? hath it not been told you from the beginning? have ye not understood from the foundations of the earth? 22 `It is' he that sitteth above the circle of the earth, and the inhabitants thereof are as grasshoppers; that stretcheth out the heavens as a curtain, and spreadeth them out as a tent to dwell in; 23 that bringeth princes to nothing; that maketh the judges of the earth as vanity. 24 Yea, they have not been planted; yea, they have not been sown; yea, their stock hath not taken root in the earth: moreover he bloweth upon them, and they wither, and the whirlwind taketh them away as stubble. 25 To whom then will ye liken me, that I should be equal `to him'? saith the Holy One. 26 Lift up your eyes on high, and see who hath created these, that bringeth out their host by number; he calleth them all by name; by the greatness of his might, and for that he is strong in power, not one is lacking. 27 Why sayest thou, O Jacob, and speakest, O Israel, My way is hid from Jehovah, and the justice `due' to me is passed away from my God? 28 Hast thou not known? hast thou not heard? The everlasting God, Jehovah, the Creator of the ends of the earth, fainteth not, neither is weary; there is no searching of his understanding. 29 He giveth power to the faint; and to him that hath no might he increaseth strength. 30 Even the youths shall faint and be weary, and the young men shall utterly fall: 31 but they that wait for Jehovah shall renew their strength; they shall mount up with wings as eagles; they shall run, and not be weary; they shall walk, and not faint. .
How has God demonstrated His power?
How has He demonstrated His sovereignty?
What comfort should that bring to you?
From Strength for Today by John MacArthur Copyright © 1997. Used by permission of Crossway Books, a division of Good News Publishers, Wheaton, IL 60187, www.crossway.com.
Additional Resources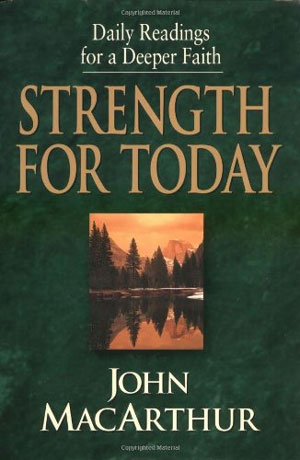 The content above belongs exclusively to Grace To You - Strength For Today and is provided on HopeLife.org for purely non-profit purposes to help extend the reach of their ministry.
Copyright 2017 by John MacArthur. Used by permission from Grace to You.