Devotionals
Fulfilling God's Law
A devotional by Grace To You for reading on September 20th
"In order that the requirement of the Law might be fulfilled in us, who do not walk according to the flesh, but according to the Spirit" ( Romans 8:4 4 that the ordinance of the law might be fulfilled in us, who walk not after the flesh, but after the Spirit. ).
If the Holy Spirit resides within us, we will be able to fulfill the demands of God's law.
Augustine once said, "Grace was given, in order that the law might be fulfilled." When God saves us He, by His Spirit, creates within us the ability to obey His perfect law. Because we now live "according to the Spirit"—walking by the Spirit and being filled with the Spirit—we are able to do the righteous things God's law requires.
Isn't it wonderful that the Lord no longer expects His law to be lived out only by means of an external code of ethics? Now holiness, righteousness, and obedience to the law are internal, the products of the indwelling Holy Spirit (see Ezek. 11:19-20).
God's salvation is more than a spiritual transaction by which He imputed Christ's righteousness to us. It is more than a forensic action by which He judicially declared us righteous. As great and vital as those doctrines are, they were not applied to us apart from God's planting His Spirit within our hearts and enabling our lives to manifest the Spirit's fruit: "love, joy, peace, patience, kindness, goodness, faithfulness, gentleness, self-control" (Gal. 5:22-23).
We need to remind ourselves regularly that God's purpose for us after He redeemed us was that we might live a holy life filled with good works (Eph. 2:10; Titus 2:14 14 who gave himself for us, that he might redeem us from all iniquity, and purify unto himself a people for his own possession, zealous of good works. ). Whenever you are disobedient to God's will and purpose, you are quenching the Holy Spirit and fighting against yourself and what you know is right. Such disobedience makes about as much sense as the person who holds his breath for no reason and therefore makes his lungs resist their natural function. The believer who disobeys, especially one who persists in a sin, prevents the Spirit from naturally leading him along the path of holiness.
We are not perfect after our salvation—that won't happen until glorification ( 1 John 3:2-3 2 Beloved, now are we children of God, and it is not yet made manifest what we shall be. We know that, if he shall be manifested, we shall be like him; for we shall see him even as he is. 3 And every one that hath this hope `set' on him purifieth himself, even as he is pure. )—but the Holy Spirit will empower us to live in ways pleasing to God, which is the kind of righteousness that fulfills His law.
Suggestions for Prayer
Thank the Lord that you don't have to meet the demands of the law solely by your own strength.
For Further Study
Read Romans 6 Chapter 6 1 What shall we say then? Shall we continue in sin, that grace may abound? 2 God forbid. We who died to sin, how shall we any longer live therein? 3 Or are ye ignorant that all we who were baptized into Christ Jesus were baptized into his death? 4 We were buried therefore with him through baptism unto death: that like as Christ was raised from the dead through the glory of the Father, so we also might walk in newness of life. 5 For if we have become united with `him' in the likeness of his death, we shall be also `in the likeness' of his resurrection; 6 knowing this, that our old man was crucified with `him', that the body of sin might be done away, that so we should no longer be in bondage to sin; 7 for he that hath died is justified from sin. 8 But if we died with Christ, we believe that we shall also live with him; 9 knowing that Christ being raised from the dead dieth no more; death no more hath dominion over him. 10 For the death that he died, he died unto sin once: but the life that he liveth, he liveth unto God. 11 Even so reckon ye also yourselves to be dead unto sin, but alive unto God in Christ Jesus. 12 Let not sin therefore reign in your mortal body, that ye should obey the lusts thereof: 13 neither present your members unto sin `as' instruments of unrighteousness; but present yourselves unto God, as alive from the dead, and your members `as' instruments of righteousness unto God. 14 For sin shall not have dominion over you: for ye are not under law, but under grace. 15 What then? shall we sin, because we are not under law, but under grace? God forbid. 16 Know ye not, that to whom ye present yourselves `as' servants unto obedience, his servants ye are whom ye obey; whether of sin unto death, or of obedience unto righteousness? 17 But thanks be to God, that, whereas ye were servants of sin, ye became obedient from the heart to that form of teaching whereunto ye were delivered; 18 and being made free from sin, ye became servants of righteousness. 19 I speak after the manner of men because of the infirmity of your flesh: for as ye presented your members `as' servants to uncleanness and to iniquity unto iniquity, even so now present your members `as' servants to righteousness unto sanctification. 20 For when ye were servants of sin, ye were free in regard of righteousness. 21 What fruit then had ye at that time in the things whereof ye are now ashamed? for the end of those things is death. 22 But now being made free from sin and become servants to God, ye have your fruit unto sanctification, and the end eternal life. 23 For the wages of sin is death; but the free gift of God is eternal life in Christ Jesus our Lord. .
What happened to your old self at the time of your conversion?
How must that affect the way you live?
From Strength for Today by John MacArthur Copyright © 1997. Used by permission of Crossway Books, a division of Good News Publishers, Wheaton, IL 60187, www.crossway.com.
Additional Resources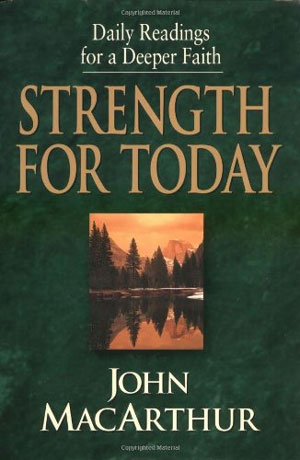 The content above belongs exclusively to Grace To You - Strength For Today and is provided on HopeLife.org for purely non-profit purposes to help extend the reach of their ministry.
Copyright 2016 by John MacArthur. Used by permission from Grace to You.