Devotionals
Evidences of God's Power
A devotional by Grace To You for reading on February 13th
"I pray that the eyes of your heart may be enlightened, so that you may know . . . what is the surpassing greatness of His power toward us who believe. These are in accordance with the working of the strength of His might" ( Ephesians 1:18-19 18 having the eyes of your heart enlightened, that ye may know what is the hope of his calling, what the riches of the glory of his inheritance in the saints, 19 and what the exceeding greatness of his power to us-ward who believe, according to that working of the strength of his might ).
God's power is seen in creation, preservation, redemption, and resurrection.
Think of all the energy we get from the sun, and multiply that by the innumerable stars in space. But God by His great power created all the stars with no effort whatsoever: "By the word of the Lord the heavens were made, and by the breath of His mouth all their host" (Ps. 33:6). He just spoke, and they were made.
God's power also preserves the universe. Christ "upholds all things by the word of His power" (Heb. 1:3), and "in Him all things hold together" (Col. 1:17). Chaos would result unless His sustaining hands were directing the orderliness of creation (Ps. 104; Jer. 31:35-36).
God's power was beautifully demonstrated at the cross. Satan was subdued, death was conquered, and the penalty for our sins was paid. The gospel "is the power of God for salvation to every one who believes" (Rom. 1:16). When we were saved, God made each of us "a new creature" (2 Cor. 5:17). Not only that, but "He who began a good work in [us] will perfect it until the day of Christ Jesus" (Phil. 1:6). God's power saved us and gives us strength to live lives pleasing to Him.
The power of God is also made evident in resurrection. Did you know that someday God is going to resurrect every human being who ever lived? The righteous will be raised to eternal life, and the unrighteous to eternal damnation ( John 5:28-29 28 Marvel not at this: for the hour cometh, in which all that are in the tombs shall hear his voice, 29 and shall come forth; they that have done good, unto the resurrection of life; and they that have done evil, unto the resurrection of judgment. ; Rev. 20:11-15). Billions of people, long dead, will be resurrected. What tremendous power!
Suggestions for Prayer
Praise God for the power He has shown in His beautiful creation.
Thank God that by His power He made you into a new creation and will someday raise you to eternal life.
For Further Study
Psalms 33 Chapter 33 1 Rejoice in Jehovah, O ye righteous: Praise is comely for the upright. 2 Give thanks unto Jehovah with the harp: Sing praises unto him with the psaltery of ten strings. 3 Sing unto him a new song; Play skilfully with a loud noise. 4 For the word of Jehovah is right; And all his work is `done' in faithfulness. 5 He loveth righteousness and justice: The earth is full of the lovingkindness of Jehovah. 6 By the word of Jehovah were the heavens made, And all the host of them by the breath of his mouth. 7 He gathereth the waters of the sea together as a heap: He layeth up the deeps in store-houses. 8 Let all the earth fear Jehovah: Let all the inhabitants of the world stand in awe of him. 9 For he spake, and it was done; He commanded, and it stood fast. 10 Jehovah bringeth the counsel of the nations to nought; He maketh the thoughts of the peoples to be of no effect. 11 The counsel of Jehovah standeth fast for ever, The thoughts of his heart to all generations. 12 Blessed is the nation whose God is Jehovah, The people whom he hath chosen for his own inheritance. 13 Jehovah looketh from heaven; He beholdeth all the sons of men; 14 From the place of his habitation he looketh forth Upon all the inhabitants of the earth, 15 He that fashioneth the hearts of them all, That considereth all their works. 16 There is no king saved by the multitude of a host: A mighty man is not delivered by great strength. 17 A horse is a vain thing for safety; Neither doth he deliver any by his great power. 18 Behold, the eye of Jehovah is upon them that fear him, Upon them that hope in his lovingkindness; 19 To deliver their soul from death, And to keep them alive in famine. 20 Our soul hath waited for Jehovah: He is our help and our shield. 21 For our heart shall rejoice in him, Because we have trusted in his holy name. 22 Let thy lovingkindness, O Jehovah, be upon us, According as we have hoped in thee. Psalm 34 A Psalm of David; when he changed his behavior before Abimelech, who drove him away, and he departed. is a song of praise to God for His power and sovereignty. Examine what it teaches about God's power, and read it as your own prayer of praise.
From Strength for Today by John MacArthur Copyright © 1997. Used by permission of Crossway Books, a division of Good News Publishers, Wheaton, IL 60187, www.crossway.com.
Additional Resources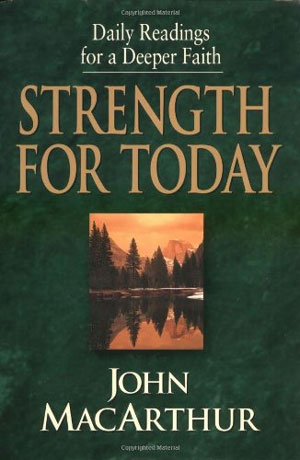 The content above belongs exclusively to Grace To You - Strength For Today and is provided on HopeLife.org for purely non-profit purposes to help extend the reach of their ministry.
Copyright 2017 by John MacArthur. Used by permission from Grace to You.