Devotionals
The Joy of Anticipation
A devotional by Grace To You for reading on February 13th
"I am confident of this very thing, that He who began a good work in you will perfect it" (Phil. 1:6).
God always finishes what He starts.
All who love Christ desire to be like Him in spiritual perfection and absolute holiness. We want to please Him in every respect. However, that noble pursuit is often met with frustration and discouragement as human frailties and sin block our pathway.
Paul's cry in Romans 7 Chapter 7 1 Or are ye ignorant, brethren (for I speak to men who know the law), that the law hath dominion over a man for so long time as he liveth? 2 For the woman that hath a husband is bound by law to the husband while he liveth; but if the husband die, she is discharged from the law of the husband. 3 So then if, while the husband liveth, she be joined to another man, she shall be called an adulteress: but if the husband die, she is free from the law, so that she is no adulteress, though she be joined to another man. 4 Wherefore, my brethren, ye also were made dead to the law through the body of Christ; that ye should be joined to another, `even' to him who was raised from the dead, that we might bring forth fruit unto God. 5 For when we were in the flesh, the sinful passions, which were through the law, wrought in our members to bring forth fruit unto death. 6 But now we have been discharged from the law, having died to that wherein we were held; so that we serve in newness of the spirit, and not in oldness of the letter. 7 What shall we say then? Is the law sin? God forbid. Howbeit, I had not known sin, except through the law: for I had not known coveting, except the law had said, Thou shalt not covet: 8 but sin, finding occasion, wrought in me through the commandment all manner of coveting: for apart from the law sin `is' dead. 9 And I was alive apart from the law once: but when the commandment came, sin revived, and I died; 10 and the commandment, which `was' unto life, this I found `to be' unto death: 11 for sin, finding occasion, through the commandment beguiled me, and through it slew me. 12 So that the law is holy, and the commandment holy, and righteous, and good. 13 Did then that which is good become death unto me? God forbid. But sin, that it might be shown to be sin, by working death to me through that which is good; --that through the commandment sin might become exceeding sinful. 14 For we know that the law is spiritual: but I am carnal, sold under sin. 15 For that which I do I know not: for not what I would, that do I practise; but what I hate, that I do. 16 But if what I would not, that I do, I consent unto the law that it is good. 17 So now it is no more I that do it, but sin which dwelleth in me. 18 For I know that in me, that is, in my flesh, dwelleth no good thing: for to will is present with me, but to do that which is good `is' not. 19 For the good which I would I do not: but the evil which I would not, that I practise. 20 But if what I would not, that I do, it is no more I that do it, but sin which dwelleth in me. 21 I find then the law, that, to me who would do good, evil is present. 22 For I delight in the law of God after the inward man: 23 but I see a different law in my members, warring against the law of my mind, and bringing me into captivity under the law of sin which is in my members. 24 Wretched man that I am! who shall deliver me out of the body of this death? 25 I thank God through Jesus Christ our Lord. So then I of myself with the mind, indeed, serve the law of God; but with the flesh the law of sin. is ours as well: "That which I am doing, I do not understand; for I am not practicing what I would like to do, but I am doing the very thing I hate. . . . I find then the principle that evil is present in me, the one who wishes to do good. . . . Wretched man that I am! Who will set me free from the body of this death?" (vv. 15, 21, 24). His answer resonates with confidence and relief: "Thanks be to God through Jesus Christ our Lord!" (v. 25).
Paul was convinced that God always completes the good work of salvation He begins in every new believer—a work that progressively conforms us to the image of His Son (2 Cor. 3:18). That might seem like a painfully slow process at times, but be assured He will complete it. All whom He justifies will be glorified (Rom. 8:29-30).
In the meantime, you have an active role to play in the process. Paul called it working out your salvation with fear and trembling (Phil. 2:12). You must discipline yourself for holiness through prayer, Bible study, obedience, and accountability to other believers. All the resources you need are at your disposal as God Himself works in you to produce His good pleasure (Phil. 2:13).
Rejoice in knowing that you belong to God and that He is conforming you to the image of His Son. See every event of this day as part of that process. Yield to the Spirit's prompting and take heart that God will accomplish His will.
Suggestions for Prayer
Give thanks to God, who is able "to make you stand in the presence of His glory blameless with great joy" (Jude 24).
Express the desire to discipline yourself for godliness. Ask for wisdom in taking advantage of all the spiritual resources available to you as a believer.
For Further Study
Read Hebrews 10:19-25 19 Having therefore, brethren, boldness to enter into the holy place by the blood of Jesus, 20 by the way which he dedicated for us, a new and living way, through the veil, that is to say, his flesh; 21 and `having' a great priest over the house of God; 22 let us draw near with a true heart in fulness of faith, having our hearts sprinkled from an evil conscience: and having our body washed with pure water, 23 let us hold fast the confession of our hope that it waver not; for he is faithful that promised: 24 and let us consider one another to provoke unto love and good works; 25 not forsaking our own assembling together, as the custom of some is, but exhorting `one another'; and so much the more, as ye see the day drawing nigh. .
What should be your attitude when approaching God?
What is your responsibility in light of God's promises?
From Drawing Near by John MacArthur Copyright © 1993. Used by permission of Crossway Books, a division of Good News Publishers, Wheaton, IL 60187, www.crossway.com.
Additional Resources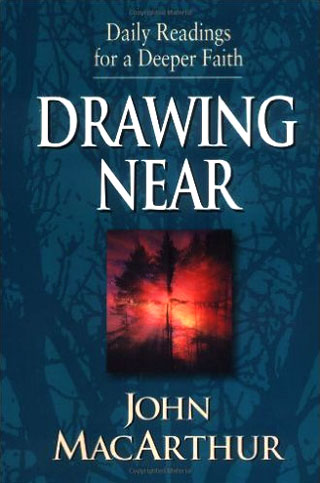 The content above belongs exclusively to Grace To You - Drawing Near and is provided on HopeLife.org for purely non-profit purposes to help extend the reach of their ministry.
Copyright 2017 by John MacArthur. Used by permission from Grace to You.