Devotionals
February 14 - Recognizing Our Humility, Part 1
A devotional by Grace To You for reading on February 14th
"'Blessed are the poor in spirit, for theirs is the kingdom of heaven'" ( Matthew 5:3 3 Blessed are the poor in spirit: for theirs is the kingdom of heaven. ).
The Puritan Thomas Watson, in his book The Beatitudes, discusses many principles to help the believer recognize his or her humility—those spiritual fruits that enable us to determine whether or not humility is actually growing within us. Here are three.
First, if we are truly humble, we will be weaned from ourselves and have no more constant self-preoccupation. Paul expresses it beautifully this way: "I have been crucified with Christ; and it is no longer I who live, but Christ lives in me; and the life which I now live in the flesh I live by faith in the Son of God, who loved me and gave Himself up for me" (Gal. 2:20).
Second, if we are really humble we will be lost in the wonder of Jesus Christ. We will contemplate "as in a mirror the glory of the Lord … being transformed into the same image from glory to glory" (2 Cor. 3:18). We'll look forward to the day when we'll be just like our Lord.
And third, no matter how bad life's situations get, we will not complain. We'll understand that we deserve far worse than anything we experience in this life. When tragedy comes, our first response won't be, "Why me, Lord?" Instead, we'll fully appreciate that "the sufferings of this present time are not worthy to be compared with the glory that is to be revealed to us" (Rom. 8:18).
Ask Yourself
Could you honestly say you're detecting growth in these three areas? It's not "proud" to recognize it, to give God glory for what He's producing in you by His Spirit. If you're not seeing this kind of spiritual development, ask yourself what needs to change.
From Daily Readings from the Life of Christ, Vol. 1, John MacArthur. Copyright © 2008. Used by permission of Moody Publishers, Chicago, IL 60610, www.moodypublishers.com.
Additional Resources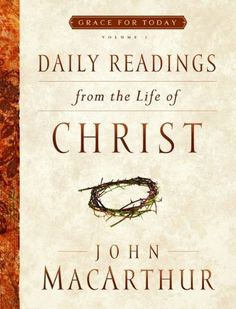 The content above belongs exclusively to Grace To You - Daily Readings and is provided on HopeLife.org for purely non-profit purposes to help extend the reach of their ministry.
Copyright 2017 by John MacArthur. Used by permission from Grace to You.