Devotionals
Daily Bible - September 22
A devotional by Grace To You for reading on September 22nd
Reading for Today:
Isaiah

35:1

Chapter 35

1

The wilderness and the dry land shall be glad; and the desert shall rejoice, and blossom as the rose. –36:22
Psalms

109:6-13

6

Set thou a wicked man over him; And let an adversary stand at his right hand.

7

When he is judged, let him come forth guilty; And let his prayer be turned into sin.

8

Let his days be few; `And' let another take his office.

9

Let his children be fatherless, And his wife a widow.

10

Let his children be vagabonds, and beg; And let them seek `their bread' out of their desolate places.

11

Let the extortioner catch all that he hath; And let strangers make spoil of his labor.

12

Let there be none to extend kindness unto him; Neither let there be any to have pity on his fatherless children.

13

Let his posterity be cut off; In the generation following let their name be blotted out.
Proverbs

25:27-28

27

It is not good to eat much honey: So `for men' to search out their own glory is grievous.

28

He whose spirit is without restraint Is `like' a city that is broken down and without walls.
2 Corinthians

13:1-14

Chapter 13

1

This is the third time I am coming to you. At the mouth of two witnesses or three shall every word established.

2

I have said beforehand, and I do say beforehand, as when I was present the second time, so now, being absent, to them that have sinned heretofore, and to all the rest, that, if I come again, I will not spare;

3

seeing that ye seek a proof of Christ that speaketh in me; who to you-ward is not weak, but is powerful in you:

4

for he was crucified through weakness, yet he liveth through the power of God. For we also are weak in him, but we shall live with him through the power of God toward you.

5

Try your own selves, whether ye are in the faith; prove your own selves. Or know ye not as to your own selves, that Jesus Christ is in you? unless indeed ye be reprobate.

6

But I hope that ye shall know that we are not reprobate.

7

Now we pray to God that ye do no evil; not that we may appear approved, but that ye may do that which is honorable, though we be as reprobate.

8

For we can do nothing against the truth, but for the truth.

9

For we rejoice, when we are weak, and ye are strong: this we also pray for, even your perfecting.

10

For this cause I write these things while absent, that I may not when present deal sharply, according to the authority which the Lord gave me for building up, and not for casting down.

11

Finally, brethren, farewell. Be perfected; be comforted; be of the same mind; live in peace: and the God of love and peace shall be with you.

12

Salute one another with a holy kiss.

13

All the saints salute you.

14

The grace of the Lord Jesus Christ, and the love of God, and the communion of the Holy Spirit, be with you all.
Notes:
Isaiah 35:6 lame…sing. God's restoration in the millennial age is to include physical restoration to the afflicted. Jesus' First Coming gave a foretaste of that future day (Matt. 11:5; 12:22; Mark 7:37 37 And they were beyond measure astonished, saying, He hath done all things well; he maketh even the deaf to hear, and the dumb to speak. ; Luke 7:21 21 In that hour he cured many of diseases and plagues and evil spirits; and on many that were blind he bestowed sight. ; Acts 3:8 8 And leaping up, he stood, and began to walk; and he entered with them into the temple, walking, and leaping, and praising God. ).
Isaiah 35:8 Highway of Holiness. This refers to the way leading the redeemed back to Jerusalem, the throne of the Messiah, literally and spiritually. Christ Himself is to be the leader on that way, called in 40:3, the "way of the LORD."
Isaiah 36:10 The LORD said. Rabshakeh's boastful claim of the authority from Judah's God for his mission may have been a ploy on his part to get a surrender, but it aligned with Isaiah's prophecy that the Assyrians would be His instrument to punish His people (8:7, 8; 10:5, 6). The Assyrians may have heard this from partisans or may not have known this, but Judah did.
Proverbs 25:28 city broken down. Such are exposed and vulnerable to the incursion of evil thoughts and successful temptations.
2 Corinthians 13:12 a holy kiss. A sign of greeting in biblical times (Matt. 26:49; Luke 7:45 45 Thou gavest me no kiss: but she, since the time I came in, hath not ceased to kiss my feet. ), much like the modern handshake. For Christians, it further expressed brotherly love and unity (Rom. 16:16; 1 Cor. 16:20; 1 Thess. 5:26; 1 Pet. 5:14).
DAY 22: What was Paul's final warning to the Corinthians?
In 2 Corinthians 12:20 20 For I fear, lest by any means, when I come, I should find you not such as I would, and should myself be found of you such as ye would not; lest by any means `there should be' strife, jealousy, wraths, factions, backbitings, whisperings, swellings, tumults; , 21, it is clear that when he visited them, Paul did not want to find the Corinthians in the same sorry spiritual condition as on his last visit (the "painful visit," 2:1). If he found that they were not what he wished (i.e., still practicing the sins he listed), they would find him not as they wished—he would have had to discipline them (13:2). To find the Corinthians still living in unrepentant sin would both humiliate and sadden Paul. This warning (and the one in 13:2) was designed to prevent that from happening.
"I will not spare" (v. 2). Paul informed the Corinthians that he would deal biblically with any sin he found in Corinth. Those Corinthians still seeking proof that Paul was a genuine apostle would have it when he arrived (v. 3). They may have gotten more than they bargained for, however, for Paul was going to use his apostolic authority and power to deal with any sin and rebellion he found there. Christ's power was to be revealed through Paul against the sinning Corinthians (1 Cor.11:30–32). Paul was to come to Corinth armed with the irresistible power of the risen, glorified Christ (v. 4).
In vv. 5, 6, the Greek grammar places great emphasis on the pronouns "yourselves" and "you." Paul turned the tables on his accusers. Instead of presuming to evaluate his apostleship, they needed to test the genuineness of their faith ( James 2:14 14 What doth it profit, my brethren, if a man say he hath faith, but have not works? can that faith save him? –26). He pointed out the incongruity of the Corinthians' believing (as they did) that their faith was genuine and his apostleship false. Paul was their spiritual father (1 Cor. 4:15). If his apostleship was counterfeit, so was their faith. The genuineness of their salvation was proof of the genuineness of his apostleship.
From The MacArthur Daily Bible Copyright © 2003. Used by permission of Thomas Nelson Bibles, a division of Thomas Nelson, Inc, Nashville, TN 37214, www.thomasnelson.com.
Additional Resources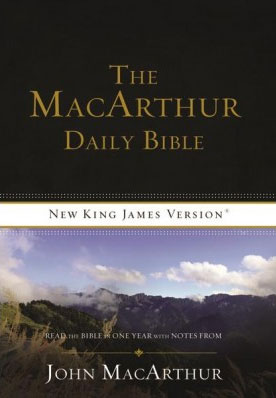 The content above belongs exclusively to Grace To You - Daily Bible and is provided on HopeLife.org for purely non-profit purposes to help extend the reach of their ministry.
Copyright 2016 by John MacArthur. Used by permission from Grace to You.