Devotionals
Daily Bible - February 12
A devotional by Grace To You for reading on February 12th
Reading for Today:
Exodus

35:1

Chapter 35

1

And Moses assembled all the congregation of the children of Israel, and said unto them, These are the words which Jehovah hath commanded, that ye should do them. –36:38
Psalms

22:1-8

Chapter 22

1

My God, my God, why hast thou forsaken me? `Why art thou so' far from helping me, `and from' the words of my groaning?

2

O my God, I cry in the daytime, but thou answerest not; And in the night season, and am not silent.

3

But thou art holy, O thou that inhabitest the praises of Israel.

4

Our fathers trusted in thee: They trusted, and thou didst deliver them.

5

They cried unto thee, and were delivered: They trusted in thee, and were not put to shame.

6

But I am a worm, and no man; A reproach of men, and despised of the people.

7

All they that see me laugh me to scorn: They shoot out the lip, they shake the head, `saying',

8

Commit `thyself' unto Jehovah; Let him deliver him: Let him rescue him, seeing he delighteth in him.
Proverbs

8:6-11

6

Hear, for I will speak excellent things; And the opening of my lips shall be right things.

7

For my mouth shall utter truth; And wickedness is an abomination to my lips.

8

All the words of my mouth are in righteousness; There is nothing crooked or perverse in them.

9

They are all plain to him that understandeth, And right to them that find knowledge.

10

Receive my instruction, and not silver; And knowledge rather than choice gold.

11

For wisdom is better than rubies; And all the things that may be desired are not to be compared unto it.
Matthew

26:26-50

26

And as they were eating, Jesus took bread, and blessed, and brake it; and he gave to the disciples, and said, Take, eat; this is my body.

27

And he took a cup, and gave thanks, and gave to them, saying, Drink ye all of it;

28

for this is my blood of the covenant, which is poured out for many unto remission of sins.

29

But I say unto you, I shall not drink henceforth of this fruit of the vine, until that day when I drink it new with you in my Father's kingdom.

30

And when they had sung a hymn, they went out unto the mount of Olives.

31

Then saith Jesus unto them, All ye shall be offended in me this night: for it is written, I will smite the shepherd, and the sheep of the flock shall be scattered abroad.

32

But after I am raised up, I will go before you into Galilee.

33

But Peter answered and said unto him, If all shall be offended in thee, I will never be offended.

34

Jesus said unto him, Verily I say unto thee, that this night, before the cock crow, thou shalt deny me thrice.

35

Peter saith unto him, Even if I must die with thee, `yet' will I not deny thee. Likewise also said all the disciples.

36

Then cometh Jesus with them unto a place called Gethsemane, and saith unto his disciples, Sit ye here, while I go yonder and pray.

37

And he took with him Peter and the two sons of Zebedee, and began to be sorrowful and sore troubled.

38

Then saith he unto them, My soul is exceeding sorrowful, even unto death: abide ye here, and watch with me.

39

And he went forward a little, and fell on his face, and prayed, saying, My Father, if it be possible, let this cup pass away from me: nevertheless, not as I will, but as thou wilt.

40

And he cometh unto the disciples, and findeth them sleeping, and saith unto Peter, What, could ye not watch with me one hour?

41

Watch and pray, that ye enter not into temptation: the spirit indeed is willing, but the flesh is weak.

42

Again a second time he went away, and prayed, saying, My Father, if this cannot pass away, except I drink it, thy will be done.

43

And he came again and found them sleeping, for their eyes were heavy.

44

And he left them again, and went away, and prayed a third time, saying again the same words.

45

Then cometh he to the disciples, and saith unto them, Sleep on now, and take your rest: behold, the hour is at hand, and the Son of man is betrayed into the hands of sinners.

46

Arise, let us be going: behold, he is at hand that betrayeth me.

47

And while he yet spake, lo, Judas, one of the twelve, came, and with him a great multitude with swords and staves, from the chief priest and elders of the people.

48

Now he that betrayed him gave them a sign, saying, Whomsoever I shall kiss, that is he: take him.

49

And straightway he came to Jesus, and said, Hail, Rabbi; and kissed him.

50

And Jesus said unto him, Friend, `do' that for which thou art come. Then they came and laid hands on Jesus, and took him.
Notes:
Psalm 22:1 This heavy lament rivals Job 3 Chapter 3 1 After this opened Job his mouth, and cursed his day. 2 And Job answered and said: 3 Let the day perish wherein I was born, And the night which said, There is a man-child conceived. 4 Let that day be darkness; Let not God from above seek for it, Neither let the light shine upon it. 5 Let darkness and the shadow of death claim it for their own; Let a cloud dwell upon it; Let all that maketh black the day terrify it. 6 As for that night, let thick darkness seize upon it: Let it not rejoice among the days of the year; Let it not come into the number of the months. 7 Lo, let that night be barren; Let no joyful voice come therein. 8 Let them curse it that curse the day, Who are ready to rouse up leviathan. 9 Let the stars of the twilight thereof be dark: Let it look for light, but have none; Neither let it behold the eyelids of the morning: 10 Because it shut not up the doors of my `mother's' womb, Nor hid trouble from mine eyes. 11 Why died I not from the womb? Why did I not give up the ghost when my mother bare me? 12 Why did the knees receive me? Or why the breast, that I should suck? 13 For now should I have lain down and been quiet; I should have slept; then had I been at rest, 14 With kings and counsellors of the earth, Who built up waste places for themselves; 15 Or with princes that had gold, Who filled their houses with silver: 16 Or as a hidden untimely birth I had not been, As infants that never saw light. 17 There the wicked cease from troubling; And there the weary are at rest. 18 There the prisoners are at ease together; They hear not the voice of the taskmaster. 19 The small and the great are there: And the servant is free from his master. 20 Wherefore is light given to him that is in misery, And life unto the bitter in soul; 21 Who long for death, but it cometh not, And dig for it more than for hid treasures; 22 Who rejoice exceedingly, And are glad, when they can find the grave? 23 `Why is light given' to a man whose way is hid, And whom God hath hedged in? 24 For my sighing cometh before I eat, And my groanings are poured out like water. 25 For the thing which I fear cometh upon me, And that which I am afraid of cometh unto me. 26 I am not at ease, neither am I quiet, neither have I rest; But trouble cometh. ; Psalms 69 Chapter 69 1 Save me, O God; For the waters are come in unto my soul. 2 I sink in deep mire, where there is no standing: I am come into deep waters, where the floods overflow me. 3 I am weary with my crying; my throat is dried: Mine eyes fail while I wait for my God. 4 They that hate me without a cause are more than the hairs of my head: They that would cut me off, being mine enemies wrongfully, are mighty: That which I took not away I have to restore. 5 O God, thou knowest my foolishness; And my sins are not hid from thee. 6 Let not them that wait for thee be put to shame through me, O Lord Jehovah of hosts: Let not those that seek thee be brought to dishonor through me, O God of Israel. 7 Because for thy sake I have borne reproach; Shame hath covered my face. 8 I am become a stranger unto my brethren, And an alien unto my mother's children. 9 For the zeal of thy house hath eaten me up; And the reproaches of them that reproach thee are fallen upon me. 10 When I wept, `and chastened' my soul with fasting, That was to my reproach. 11 When I made sackcloth my clothing, I became a byword unto them. 12 They that sit in the gate talk of me; And `I am' the song of the drunkards. 13 But as for me, my prayer is unto thee, O Jehovah, in an acceptable time: O God, in the abundance of thy lovingkindness, Answer me in the truth of thy salvation. 14 Deliver me out of the mire, and let me not sink: Let me be delivered from them that hate me, and out of the deep waters. 15 Let not the waterflood overwhelm me, Neither let the deep shallow me up; And let not the pit shut its mouth upon me. 16 Answer me, O Jehovah; for thy lovingkindness is good: According to the multitude of thy tender mercies turn thou unto me. 17 And hide not thy face from thy servant; For I am in distress; answer me speedily. 18 Draw nigh unto my soul, and redeem it: Ransom me because of mine enemies. 19 Thou knowest my reproach, and my shame, and my dishonor: Mine adversaries are all before thee. 20 Reproach hath broken my heart; and I am full of heaviness: And I looked for some to take pity, but there was none; And for comforters, but I found none. 21 They gave me also gall for my food; And in my thirst they gave me vinegar to drink. 22 Let their table before them become a snare; And when they are in peace, `let it become' a trap. 23 Let their eyes be darkened, so that they cannot see; And make their loins continually to shake. 24 Pour out thine indignation upon them, And let the fierceness of thine anger overtake them. 25 Let their habitation be desolate; Let none dwell in their tents. 26 For they persecute him whom thou hast smitten; And they tell of the sorrow of those whom thou hast wounded. 27 Add iniquity unto their iniquity; And let them not come into thy righteousness. 28 Let them be blotted out of the book of life, And not be written with the righteous. 29 But I am poor and sorrowful: Let thy salvation, O God, set me up on high. 30 I will praise the name of God with a song, And will magnify him with thanksgiving. 31 And it will please Jehovah better than an ox, `Or' a bullock that hath horns and hoofs. 32 The meek have seen it, and are glad: Ye that seek after God, let your heart live. 33 For Jehovah heareth the needy, And despiseth not his prisoners. 34 Let heaven and earth praise him, The seas, and everything that moveth therein. 35 For God will save Zion, and build the cities of Judah; And they shall abide there, and have it in possession. 36 The seed also of his servants shall inherit it; And they that love his name shall dwell therein. Psalm 70 For the Chief Musician. `A Psalm' of David; to bring to remembrance. ; Jeremiah 20:14 14 Cursed be the day wherein I was born: let not the day wherein my mother bare me be blessed. –18. My God, My God, why have You forsaken Me? The repeated noun of direct address to God reflects a personal molecule of hope in a seemingly hopeless situation." Forsaken" is a strong expression for personal abandonment, intensely felt by David and supremely experienced by Christ on the cross (Matt. 27:46).
Proverbs 8:10, 11 The most valuable reality a young person can attain is the insight to order his life by the standard of truth (see 3:14, 15; 8:19–21; also Job 28:12 12 But where shall wisdom be found? And where is the place of understanding? –28; Ps. 19:10).
Matthew 26:39 this cup. See v. 42. A cup is often the symbol of divine wrath against sin in the Old Testament (Is.51:17, 22; Jer. 25:15–17, 27–29; Lam. 4:21, 22; Ezek. 23:31–34; Hab. 2:16). The next day Christ would "bear the sins of many" (Heb. 9:28)—and the fullness of divine wrath would fall on Him (Is. 53:10, 11; 2 Cor. 5:21). This was the price of the sin He bore, and He paid it in full. His cry of anguish in 27:46 reflects the extreme bitterness of the cup of wrath He was given. not as I will, but as You will. This implies no conflict between the Persons of the Godhead. Rather, it graphically reveals how Christ in His humanity voluntarily surrendered His will to the will of the Father in all things—precisely so that there would be no conflict between the divine will and His desires. See John 4:34 34 Jesus saith unto them, My meat is to do the will of him that sent me, and to accomplish his work. ; 6:38; 8:29; Phil. 2:8.
DAY 12: Why did Jesus institute the Lord's Supper?
In Matthew 26:26 26 And as they were eating, Jesus took bread, and blessed, and brake it; and he gave to the disciples, and said, Take, eat; this is my body. , "Jesus took bread, blessed and broke it, and gave it to the disciples and said, 'Take, eat; this is My body,'" thus transforming His last Passover into the first observance of the Lord's Supper. He is the central antitype in both ceremonies, being represented symbolically by both the paschal lamb of the Passover and the elements in the communion service. His statement, "this is My body," could not possibly have been taken in any literal sense by the disciples present that evening. Such metaphorical language was a typical Hebraism. No eucharistic miracle of transubstantiation was implied, nor could the disciples have missed the symbolic intent of His statement, for His actual body—yet unbroken—was before their very eyes.
When He took the cup of wine, He said that this is "My blood of the new covenant" (v. 28). Covenants were ratified with the blood of a sacrifice (Gen. 8:20; 15:9, 10). Jesus' words here echo Moses' pronouncement in Exodus 24:8 8 And Moses took the blood, and sprinkled it on the people, and said, Behold the blood of the covenant, which Jehovah hath made with you concerning all these words. . The blood of the New Covenant is not an animal's blood, but Christ's own blood, shed for the remission of sins. See Jeremiah 31:31 31 Behold, the days come, saith Jehovah, that I will make a new covenant with the house of Israel, and with the house of Judah: –34; Hebrews 8:1 Chapter 8 1 Now in the things which we are saying the chief point `is this': We have such a high priest, who sat down on the right hand of the throne of the Majesty in the heavens, –10:18, especially 8:6.Thus He established the observance as an ordinance for worship (1 Cor. 11:23–26). Passover had looked forward to the sacrifice of Christ; He transformed it into an altogether different ceremony, which looks back in remembrance at His atoning death.
From The MacArthur Daily Bible Copyright © 2003. Used by permission of Thomas Nelson Bibles, a division of Thomas Nelson, Inc, Nashville, TN 37214, www.thomasnelson.com.
Additional Resources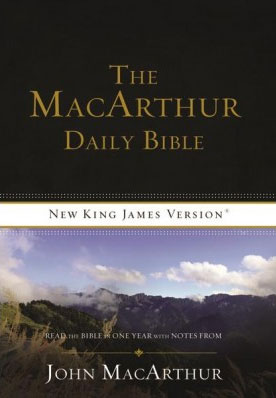 The content above belongs exclusively to Grace To You - Daily Bible and is provided on HopeLife.org for purely non-profit purposes to help extend the reach of their ministry.
Copyright 2017 by John MacArthur. Used by permission from Grace to You.